Winner: Zone One
This is surprisingly close. Both were books that I liked, but engaged with more on an intellectual level than a visceral one. It is perhaps because I felt like the twist at the end of McEwan's book was too much like the one he'd already done in Atonement that decided this battle against him. In that case, the round goes to Colson Whitehead's very literary zombie apocalypse, where a government-in-exile tries to take back New York, while nearly all the survivors are barely holding on their sanities.
Winner: Orange is the New Black
I read so little non-fiction that I'm surprised to see two of the few I read last year pop up against each other. Although I do vaguely remember reading them in short order. Both I ended up liking more than I suspected I would from looking at the covers and reading the blurbs. So we have a story of being incarcerated that is told by a white woman, which troubled me, as it can become a story about the one woman who doesn't "belong there." It's better and more complex than that, though, and her recognition of the complexities raises the book above what it could be. The Spark is also better and more complex than I was expecting, but the scope of Orange Is The New Black gives it the win.




The Winner: Telempath
I make no pretense of this being a fair match-up. I have read Telempath many times before, although this was the first time I reviewed it. It's by my favourite author. It's not his best book, but I've always enjoyed it, and reading it is more an exercise in happy remembering than discovery. I've never been that taken by McKay's books, for whatever reason. It's not that they're bad, but they don't really make me sit up and pay attention, which you would have to do to beat out pretty much any of Spider's books. So this one goes to the survivors of a plague that increases the sense of smell a hundred-fold, and then find out they are sharing their world with something no one had been able to smell before.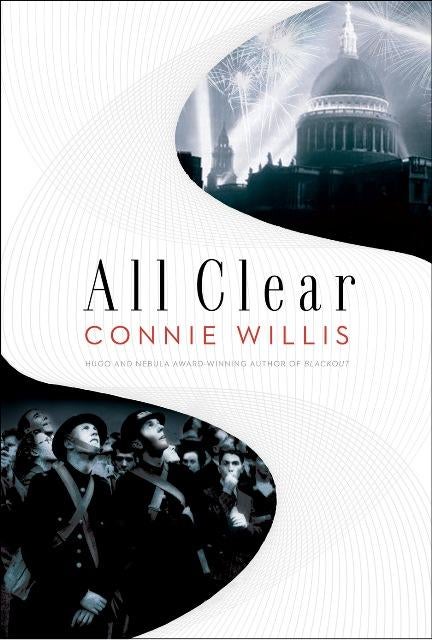 Winner: All Clear
Is anyone surprised? Really? I disliked The Sentimentalists probably more than any other book this year. The prose was terrible, the story only okay, and it was just so clunky. It's rare that you find a published book that is actively painful to read because the cadence is so bad, but this book succeeded! If that is the word, and it is not. On the other hand, the second half of Connie Willis' WWII Battle of Britain time traveller book was quite satisfying. I had some minor quibbles, but she is so good at making us care about her fictional characters, time travellers and the people they are visiting. You care if they survive, for many reasons.
Winner: The Bone Clocks
It isn't as good as Cloud Atlas, but then it's unlikely anything will ever be. Still, I'm a big David Mitchell fan, and I enjoyed The Bone Clocks quite a lot. Even more now that I've read the previous Mitchell book that would have given me quite a lot of backstory had I read them in the opposite order. Sorry, Christopher Bram. I'm a sucker for books about the theatre, but this one just didn't grab me quite as much as it would have had to to edge out a multi-genre tale of authors and immortals.