An easy one to start this entry in the Dust Cover Dust-Up. Barrow's Boys was fine non-fiction, but not really anything that grabbed me. On the other hand, Effinger's book was immensely appealing and interesing. Which is funny, because the first book in the series left me a little cold. Or maybe I just wasn't in the right mood for it. Whatever the reason, A Fire in the Sun hit me a lot harder than When Gravity Fails, and the morass of ethical grey areas (and outright evil ones) the main character finds himself in were compelling.
Winner: A Fire in the Sun
Goddammit. I just got finished writing a paragraph about how it made NO SENSE that Elizabeth Bear's first entry in her Jenny Casey section would come after the second book when I KNOW that I read them in order this time, and then the penny dropped. Apparently I read two books named Hammered in the last year, and the Bear book was in last year's DCD. So, yeah. This is one about that druid, with the snark, and the dog, and things I generally like. In this one, they're trying to take down Thor, hence the hammer. Despite the fact that the title had utterly gone out of my head, it wins this battle, because I still remember more of it than I do of Sedaris' book. Which wasn't bad, but hasn't stayed with me at all.
Winner: Hammered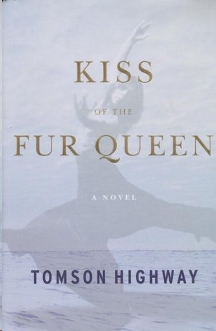 Strangely, both these authors were here for a writer's festival a few months ago. I wanted to see both of them, but having just started a new job, hit that particular weekend too tired to go out and do anything. Here we have two books I liked quite a lot, by exciting Canadian authors. One, lamentably, has to fall by the wayside. Oh, which to pick? This is one of the few painful battles in this round. On the one hand, Kiss of the Fur Queen had such beautiful prose wrapped around such a painful story. On the other, in Irma Voth, there's an engaging story that moved me quite a lot. I think maybe the prose puts it over the edge - Highway has the rhythms of oral storytelling in this work, and that gets it to the next round.
Winner: Kiss of the Fur Queen
Wow. Now that's a weird match-up. Weirdness abounds, or abides, or does something strange and unexpected. Now that I think back on reading both these books at the same time...I wonder if it was a smart idea? Regardless, let's see, which would I read again if I had the chance. The Pynchon is long and dense, and difficult. The Lovecraft is short and creepy, although it lost some of the punch it might have if I were a visual thinker. Still, despite its length, there's just so much good weird stuff in the Pynchon, and I feel like a reread might actually help me come to grips with this vast expanse of strange Americana. (And Europeana.)
Winner: Mason & Dixon
I find Christopher Moore a little hit or miss, but this was one that definitely hit. It's got an emotional core that some of his books seem to lack, and is very entertaining. However, Daryl Gregory is fast becoming one of my must-read authors. While I like his long-form novels better, as they give him more room to explore amazing and crazy ideas, these short stories still pack quite the punch, and many of them linger at the crossroads of science and faith, in intriguing and often troubling ways. No question, easy choice. Daryl Gregory all the way.
Winner: Unpossible