A Manual for Cleaning Women by Lucia Berlin vs. Lila by Marilynne Robinson
I was glad to see that A Manual for Cleaning Women made it as far into this tournament as it did. I was very struck by it, but had no illusions it was going to be there at the end. That's a small consolation now that it's up against Lila, a book that I truly cannot say enough about - or often, anything about. It strikes me dumb with how good and powerful it is.
Americanah by Chimamanda Ngozi Adichie vs. Karen Memory by Elizabeth Bear
This is a more difficult choice. And it's harder because I think I know which one I'm going to pick, but I feel a little guilty about it. As well as being very enjoyable, Americanah is unmistakably a Capital I Important Book but it's up against a book that was not only delightful from beginning to end, but also came along at a point in the year where I desperately needed something that I could enjoy wholeheartedly. And so I'm going with steampunk, prostitutes and political intrigue.
Winner: Karen Memory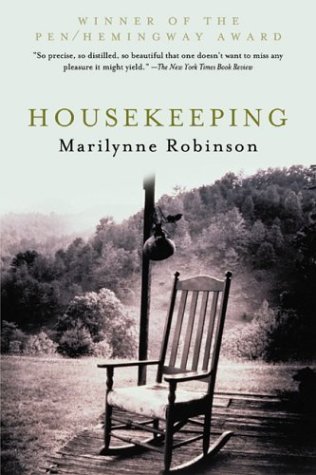 Steles of the Sky by Elizabeth Bear vs. Housekeeping by Marilynne Robinson
And while, by every right, having just chosen one Elizabeth Bear, I should be able to let another one go, particularly when it's up against a Marilynne Robinson book, the author this year who knocked my socks off more than any other. That's not what's going to happen, though. Much to my own surprise, the end of Bear's trilogy needs to stay in this competition more than a book that I loved as well. I don't know if I can explain why.
Winner: Steles of the Sky
Afterparty by Daryl Gregory vs. Castle Hangnail by Ursula Vernon
Now this is another difficult choice, for very different reasons. Usually, I'd knock the kid's book out without a second thought, but there was something so charming about Castle Hangnail that it makes me hesitate. However, even though it wasn't everything I'd ever wanted, Afterparty was such a strong thriller that got close to what I wanted it to that, in the end, the result is the same. I just want you to know that it was harder than it looked.
Life After Life by Kate Atkinson vs. Everything I Never Told You by Celeste Ng
Oh God. This is the battle I saw coming for rounds, every time dreading it. I read two of my favourite books of the year back to back, and now I need to pick between them early enough that the one that gets knocked out won't be in the top ten. And it's an agonizing choice! Both of these books knocked my socks off, and everyone should read them. That said, I need to consider which of the two I couldn't bear to lose yet.
Winner: Everything I Never Told You
The Third Policeman by Flann O'Brien vs. Ancillary Sword by Ann Leckie
Oh, thank goodness, an easy choice after that last one. The Third Policeman was fine, but didn't really worm its way into my heart, whereas Ancillary Sword took all the things I enjoyed about the first book and developed them further, narrowing the focus while exploring the universe Leckie had created in intimate ways.
Winner: Ancillary Sword