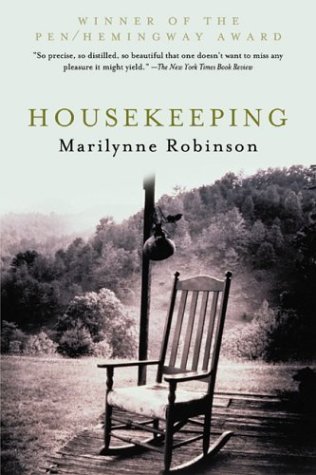 Unfortunately, John Scalzi, I think that this match-up knocks the last book you had in this tournament out of the competition. (I think I read two this year? And enjoyed both!) It's just that, as good and fun as this science fiction is, when it's up against an author who moves me as much as Robinson did with each and every book of hers I've read, I know which I'm going to pick.
Winner: Housekeeping
I do like Saga as a series, but graphic novels are probably not ever going to be my favourite form of reading - they're over too quickly, given how fast I read, for me really to sink down into them. So, even though Afterparty was not my favourite of Daryl Gregory's works so far, it wins out, because it delivered tense action around a provocative drug.
Winner: Afterparty
Castle Hangnail by Ursula Vernon vs. Purity by Jonathan Franzen
Finally, a chance to knock out a book that I really didn't enjoy, but was better than what it came up against in the first round. It doesn't hurt that the other book is a thoroughly delightful children's novel that I wouldn't hesitate to give to any young people of my acquaintance. Bye-bye, Franzen.
Winner: Castle Hangnail
Rainbows End by Vernor Vinge vs. Life After Life by Kate Atkinson
This is another relatively easy choice, when one book that gripped me goes up against a book that diverted me. Every day I was reading Life After Life, I couldn't wait for lunch so I could open the pages again and sink into the world Atkinson created. Rainbows End is solid science fiction, but Life After Life is much deeper.
Winner: Life After Life
Everything I Never Told You by Celeste Ng vs. 2001: A Space Odyssey by Arthur C. Clarke
Phew! It's nice to have a couple of easy choices in a row. I was a little worried Life After Life would come up against Everything I Never Told You in this round, and that's a choice I'm more than happy to put off for a while. I don't know which would win. Both were shatteringly good. In contrast, 2001 was a little sparse in plot and character.
Winner: Everything I Never Told You
Austerlitz by W.G. Sebald vs. The Third Policeman by Flann O'Brien
This is a weird contest, because two books that didn't speak to me deeply are head to head. (Looking just ahead, I can see this in opposition to the next choice, which might tear me apart.) Both were, well, fine, but neither my particular cup of tea. So, do we take detached study of a man who lost his family in the Holocaust? Or a very very strange trip to a world of bicycles and ghosts? Of the two, I guess one amused me more.
Winner: The Third Policeman
Ancillary Sword by Ann Leckie vs. Green Grass, Running Water by Thomas King
I do not want to have to choose between these two books. I really, really don't. I loved them both, as extraordinarily different as they are. In Ancillary Sword, Leckie goes on to incorporate some themes I responded to strongly into what was already a kickass story. In Green Grass, Running Water, Thomas King lyrically made me laugh even as he broke my heart. Which to choose? Either way, I'm eliminating a book I love. Time to take a deep breath and choose....
Winner: Ancillary Sword