Enchantments of two different sorts in this first battle of Round Five. We're down to eight books, so not far to go to determine my favourite book of the year! I loved both of these books, in very different ways. I was enchanted by Rushdie's prose and the messy beauty of his tale. However, I was absolutely blown away by The Magicians. It's not an easy book, but there are things Grossman has to say that resonated so strongly.
Winner: The Magicians
The Portrait of the Artist as a Young Man by James Joyce vs. Farthing by Jo Walton
Sorry, James Joyce. I really did enjoy The Portrait etc. a lot, finding it oh-so-much more accessible than Ulysses. However, Farthing is one of those books that I've been frantically trying to make people read all year. It's hard to convey how unsettled I was by it, how convincing and terrifying it was. As an alt-history, it's hard to beat.
Winner: Farthing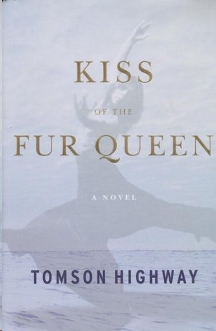 This is not that hard a battle. I liked Rule 34 a lot, but it also got through because it was up agaisnt much, much weaker books. While I thoroughly enjoyed (and was occasionally squicked by) this near future police procedural, there's no real question that Tomson Highway's Kiss of the Fur Queen is going to win. It's beautifully written and hard to walk away from.
Winner: Kiss of the Fur Queen
Look, you probably all know that China Mieville makes me swoon. His book Railsea won the Dust Cover Dust-Up last year, and I'm pretty sure Perdido Street Station cracked the top ten the year before. But no matter how much his prose makes me weak in the knees, it's a pale shadow of how powerful and raw and intense Written on the Body is. I've been truly evangelical all year about it, and that doesn't seem to be tapering off.
Winner: Written on the Body