I made it! It took an ungodly long time, but here we are. The end of the 2015 Dust Cover Dust-Up. It's been a long road, but here we are. After I announce the totally unsurprising book of the year, I'll put down my top ten. We're down to two books:
I loved both of these books a lot, and recommend that you should read both. Like, right now. In the end, though, it's not really that hard a choice. Jeanette Winterson's book knocked my socks off in a way no other book this year has, and I've been telling everyone I meet to read it. (And next month, making my book club read it.) So, there you go. The winner of the 2015 Dust Cover Dust-Up.

The Top 10 of 2015 are after the cut:
.
1.
Written on the Body by Jeanette Winterson
Written by a deliberately ungendered narrator, this is a look at love, an affair, sickness, obsession and trying to do the right thing, even when you don't check in with the other person to see if it's what they really need.
2.
The Magicians by Lev Grossman
It's part Harry Potter, part Narnia, but really entirely itself. Quentin may not be a likeable protagonist, but Grossman has such interesting and complex things to say about growing up. I just loved it, beginning to end.
3.
Farthing by Jo Walton
It's an incredibly creepy look at what would happen if England sought peace with Nazi Germany, and all about the creeping scourge of fascism at home. It's terrifyingly real and compelling.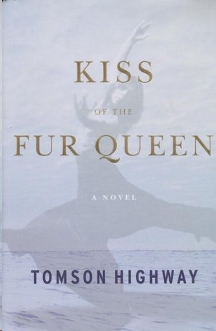 4.
Kiss of the Fur Queen by Tomson Highway
Another book on a difficult topic, in this case the long-term effects of residential schools on two artistic brothers. The writing has the cadence of oral storytelling, and the story itself is difficult and worthwhile.
5.
Haroun and the Sea of Stories by Salman Rushdie
I like the second book in this world a little bit more, but this book is truly delightful. It's messy, with an amazingly great use of language, folklore, myth, and whimsy. Haroun must help his father regain his access to the sea of stories after his mother leaves, and in the process discovers that the source of all stories is being threatened.
6.
The Scar by China Mieville
Can a year go by without a China Mieville book on this list? (Other multiple-time appearances go to Salman Rushdie, Jo Walton and David Mitchell.) Unlikely. The Scar takes the world of New Crobuzon and puts us on a floating pirate city offshore. There are mosquito people and leviathans of the deep and uncertainty principles abound.
7.
A Portrait of the Artist as a Young Man by James Joyce
Does this officially make me pretentious? It's not every classic that makes me fall in love with it, and Ulysses would certainly not have made my 10 Ten list of that year, no matter how worthwhile a read it was. I had no such problems with A Portrait of the Artist as a Young Man. It's much more accessible, and really great.
8.
Rule 34 by Charles Stross
I might not have pegged this to make it into the top 8, but I did thoroughly enjoy it. Scottish Internet police, someone killing off scammers in ironically appropriate manners, and international scams. What's not to like?
9.
River of Stars by Guy Gavriel Kay
While I may not have loved it as much as
Under Heaven,
this book has really stuck with me through the year. Its look back at an empire in decline, as evident (or not) as that is to those living through it, it unlike anything I've read before. In a very good way.
10.
The Bone Clocks by David Mitchell
This squeaked in, growing more and more impressive in my mind as I realize more and more about his metafictional universe. Even without that, I enjoyed this a lot, with a multi-genre look at an millennia-old battle and the life of a British woman.